What to do with Mold on your Washer's Gasket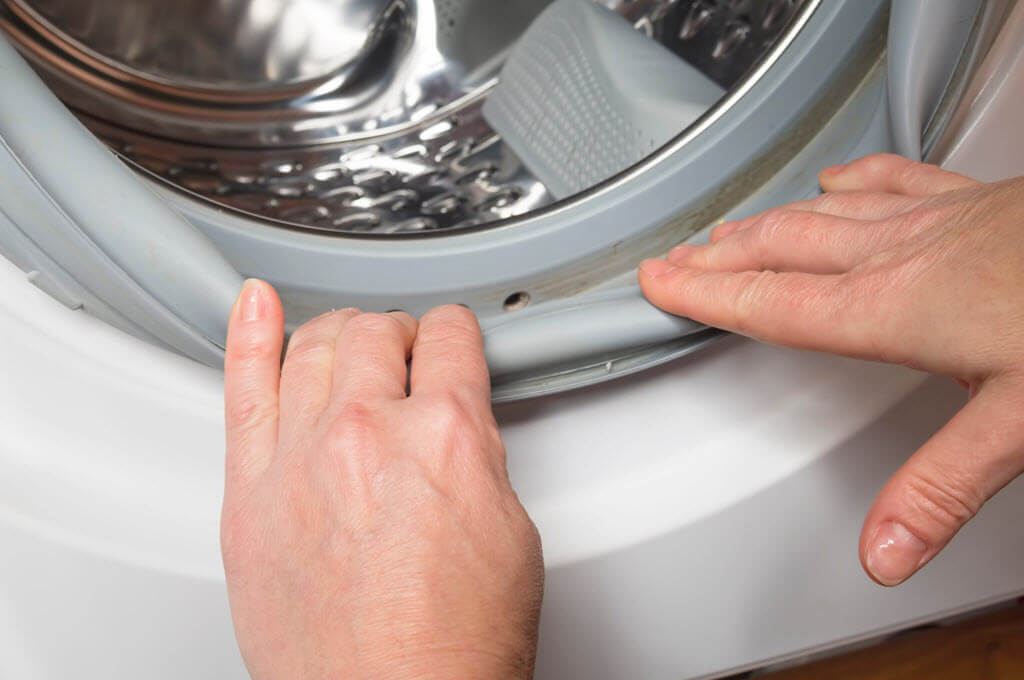 For many people, specifically those who live in condos or other smaller spaces, front load washing machines are incredibly convenient. People who live in a small space go with front load washers because it allows them to save floor space by stacking their washer and dryer.
Although a front load washer has many benefits for these people, it also comes with a key drawback: mold build-up. Unfortunately, people with front load washers often have to deal with mold build-up, particularly in the gasket of the washer (the rubber seal that rests between the door of a washer and the basket).
When you start to see mold build-up in the gasket, you have to deal with that issue as soon as possible to avoid larger issues down the road. In this article, we will discuss two options that you can pursue in order to get mold out of your life. You can get the gasket replaced or you can clean the mold yourself. But before we get into these two options, we need to talk about…
Why It's Important to Deal With Mold Immediately
We know you don't often think about what goes on in your washer after you press the 'START' button, but it's important to be cognizant of the fact that dirt, water and lint are all coalescing inside your washer during a wash cycle. This creates bacteria that leads to mold build-up.
If you let that mold sit for too long, you will end up dealing with unpleasing and ill-favoured predicaments. First and foremost, mold can cause bad odours, which can completely thwart your efforts to clean your clothes. Imagine putting your clothes through a wash cycle only to have them come out smelling worse than when you first put them into your washer.
Need another reason to get rid of mold on your washer's gasket? Well, we have one: MOLD CAN MAKE YOU SICK! You really are playing with fire if you let mold sit in your gasket for a long time. The longer that mold sits, the more likely it is that you will start to feel under the weather.
So when you start to see mold build-up on your gasket, you need to spring into action and get that gasket replaced or clean it yourself.
Replacing the Gasket on Your Washing Machine
Getting the gasket on your washer replaced by a professional appliance repair company is the easiest, safest and most convenient method for dealing with mold build-up. Washing machines are pretty complex pieces of machinery, which is why it helps to have an experienced technician fix the problem for you.
The last thing you want to do is make the situation worse by either damaging the washer while trying to replace the gasket or, even worse, getting sick while dealing with the problem. The experts at Capital Appliance Repair have replaced many gaskets over the years because of mold build-up, so you know you can trust us to deal with the issue quickly and efficiently.
As you can see from the video below, the Capital Appliance Repair technicians are equipped with the necessary tools and knowledge to get the job done the same day you call us.
Cleaning the Gasket Yourself
You can also elect to clean the gasket yourself. Luckily, you can clean the mold of the gasket without having to remove the gasket from your washer.
There are two different methods for cleaning your gasket:
1) Using vinegar
You can clean your gasket with vinegar. This is a simple and pretty safe method for removing mold, but it can also be time-consuming. All you have to do is follow these simple steps:
Put on gloves and goggles (THIS IS ARGUABLY THE MOST IMPORTANT STEP OF ALL)
Put vinegar into a spray bottle
Spray mold with the vinegar and let the vinegar sit for 2 to 4 hours
After the time has elapsed, rinse the gasket with water
Leave washer door open and let the rubber dry
2) Using Bleach
If you are looking for a method that is quicker than the vinegar method, you can elect to use bleach. It doesn't take as long to get rid of the mold, but this method requires more effort. If you want to use bleach to deal with the mold, you can follow these steps:
Grab those gloves and goggles (yes, we are very serious about safety)
Mix one part bleach with four parts of water
Put the mixture into a spray bottle
Spray the mold with the mixture
Let it sit for 15 minutes
Scrape mold away with a brush
Rinse with water
Leave washer door open and let the rubber dry
Mold build-up on the gasket of your washer is a very serious issue and needs to be dealt with ASAP. You can trust the experts at Capital Appliance Repair with all of your washer repair needs. If you're in need of a reliable appliance repair service, give us a call at (613) 454-1577 or fill out a contact form here. We can show up at your home to provide same-day washer repair services and remove that pesky mold from your washer's gasket.