How to Deal with A Broken Refrigerator in Ottawa Before It Ruins Your Life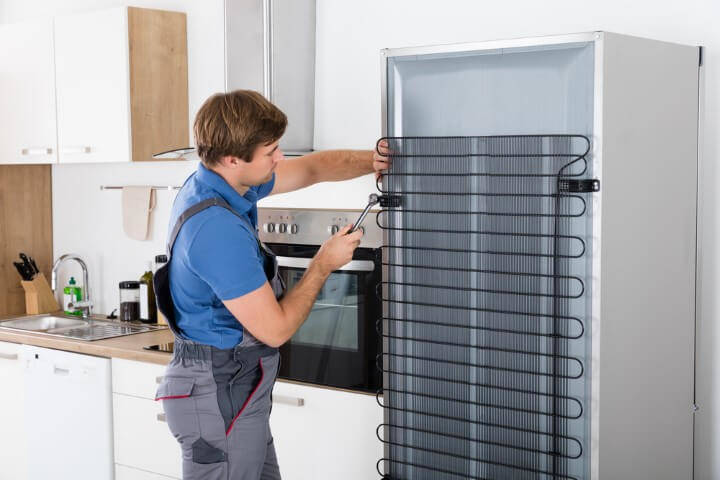 You notice something strange when you get home for the day. The kitchen seems quieter than usual, eerily quiet, spooky even.
You open the fridge. The light comes on as you swing the door open. You pour yourself a glass of your favorite cold beverage and take a drink. It feels warmer in your mouth than it should. That's not right, you think. You check the freezer. Your frozen items are wet. The ice is melting.
Then it dawns on you why your kitchen is so quiet. Your refrigerator is broken. If you don't act quickly, you could lose hundreds of dollars worth of groceries.
If your refrigerator isn't working, give us a call immediately. We understand a broken refrigerator is an emergency for many families, so we'll dispatch a tech as soon as we hear from you.
After you schedule an appointment, come back and keep reading to find out what you need to do to keep your food from spoiling.
Keep your cool
It's easy to freak out when you realize your food could go bad. It's all going to be OK, as long as you take a few precautions. We're going to help you get through this.
The first thing you need to do is get some food out for dinner. Do your best to remember everything you need for the night's meal. Now shut your refrigerator door and don't open it again if you can help it. When your fridge breaks, it becomes a cooler. The more you open the cooler, the warmer it gets inside.
Keep the inside of your broken refrigerator cold by keeping the door closed as much as possible.
Disconnect the power
Your refrigerator may start working all on its own. But there could be something wrong with it that becomes a dangerous problem if you leave it plugged into the wall.
Go ahead and pull your refrigerator back from the wall. Get a friend to help if it's too heavy. Now unplug the refrigerator from the wall. This prevents invisible malfunctions inside the machine from turning into bigger problems.
Turn down the heat, turn up the AC
If you're keeping your home toasty and warm for the winter, it's time to put on some sweaters and use your electric blankets. A broken refrigerator sitting in a warm house heats up much faster than if you keep your home cool.
If it's summertime, turn your AC all the way up. This will help keep the inside of your fridge cooler for longer.
Store food outside
If your refrigerator breaks during the wintertime, you're in luck. If it's as cold outside as it should be inside your broken refrigerator, or under about 5 degrees Celsius, you can keep your food from spoiling by storing it on the porch or in the garage.
This works especially well for people who live in houses. If you live in an apartment, you may want to reconsider making your food accessible to passersby by putting it outside.
Phone a friend or neighbor
Friends and neighbors are a life saver when you're forced to deal with life's inconveniences, like a broken refrigerator. If you know your neighbors, now's the time to ask for their help. See if they have some extra space in their refrigerators to help you store your food until a technician arrives to troubleshoot and repair your refrigerator.
If you don't know your neighbors very well, now is the time to introduce yourself. They're likely to help you, knowing you'll return the favor when they need help. If they're hesitant, offer to pay them. If they don't have any room, keep looking until you find someone who does.
Ice and coolers
If all else fails, fill an empty cooler with ice and use it to store your food until a technician arrives. If you don't have a cooler on hand, go buy one. The cost of a couple coolers and a few bags of ice is probably far, far less than the cost of the food that may spoil without them.
Call Capital Appliance Repairs in Ottawa
We understand a broken refrigerator is an emergency event for many families. If you still haven't called to schedule your repair, now is the time to pick up your phone and dial (613) 454-1577 We'll dispatch one of our techs right away, as soon as we hear from you.